It all started with a dream.  And a phytosanitary inspector who will insure there are no plant diseases.  After lots of inspections in between, it has happened that 10 containers of  Abate Fetel Pears from Emilia Romagna are making their way to the USA right now (Sept 2013)!  For now, they will be available on the east coast, particularly the northeast, but if you can find one, please give it a try.
Simona Rubbi, manager for new markets, explains that this is an experimental project with a goal to obtain trust in the US and to introduce safe and high quality produce.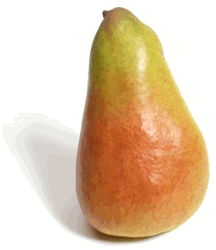 It is believed that this breed of pear began with Italian monks in the 15th century and is named after the French Abbot, Abbé Fétel.  It is slim and long and ready to enjoy when the flesh has just a little give.  Rich, sweet and crisp when eaten out of hand.  With a wedge of Pecorino Toscano, you have a gorgeous dish.