A Magic Land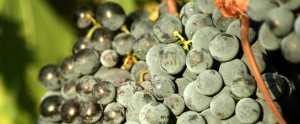 The territory is dominated by high mountains and the National Park of Abruzzo. In the past, the wines were misjudged to be little more than industrial table wines. With its first DOCG and care for the wine culture, Abruzzo's wines are now bringing success and prosperity to the region.
Abruzzo is a region with two distinguishing characteristics: the long coastal area and beautiful mountain ranges.  We embark on our journey through Abruzzo in Torano — the territory of Teramo.  Torano is located on a hill and offers enchanting views and a picturesque panorama.  It is surrounded by valleys and knolls, with many gorgeous sunny vineyards.  We are in the region of the production of Montepulciano d'Abruzzo.  Before a generous glass off Montepulciano d'Abruzzo Colline Teramane DOCG, a cheerful encounter with the salsiccioto di Torano, made from the leanest parts of the pig, is enjoyed.
We now head south-west from Torano in the direction of Teramo.  The fantastic mosaics by Leone in the underground of the precious Palazzo Savini must not be missed.   At the table, we begin with a few starters: maccheroni alla chitarra with pallottine (small polpetta).  We finish off with cagionetti, soft sheets of pastry filled with chestnut purée, chocolate, rum and citrus zest..
We continue on to L'Aquila from Teramo.  This means we can admire the Gran Sasso from various angles until we catch a glimpse of the Glacier of Calderone.  The Gran Sasso evokes various and intense emotions.  Campo Imperatore is a plateau situated at about 2000m and it is light, bright and eerily silent.  It is said the city of L'Aquila was born when 99 castrum (fortified castles) confederated and the 99 became one village.  They are remembered in the famous  Fontana delle 99 Cannelle.
In 1294, after a conclave which lasted for more than 2 years, at the Basilica di Collemaggio, where his remains now lie, Pope Celestino V was nominated.  During the time of his papacy, he issued a decree which granted complete and universal tolerance for all humanity without discrimination. The decree lays down only two conditions in order to receive the pardon: Entrance into the Basilica of Collemaggio through the arch of time during the festa, 28 – 29 August every year, and to be truly repentant and confessional.
At the table our first course is maccheroni alla chitarra with sugo di castrato (a sauce of mutton) and covered with pecorino from Castel del Monte.  Castel delMonte hovers, bewitched, at an altitude of over 1300m with about 530 inhabitants.  Nearby we enjoy volarelle, a homemade pasta cut into little squares, served with lentils from Santo Stefano di Sessanio.  Another lentil dish is served with smoked polenta from L'Aquila, sautéd pancetta and peperoncini.  Our first second course is oven roasted whitefish from Lake Campotosto, a small gem set between Gran Sasso and the Laga Mountains.  Campotosto is also famous for its mortadella flavored with wine, orange peel and cloves, and cased by hand.  We are now served our subsequent second course: stewed lamb with egg and lemon. The cheese course is caciotta from Rivisondoli, aged and served hot and a pecorino from Pizzoli, matured for a year.  In the glasses we have been invigorated by Trebbiano, Montepulciano Cerasuolo and Montepulciano Rosso.  We finish our meal with a delicate chocolate nougat, the proud confection of the aquiline city. A bitter liquor with medieval origins, Centerbe, signals the end of the meal.
Let's make a stop at Pescasseroli (a piece of heaven on earth), the center of the Parco Nationale d'Abruzzo, before passing by L'Aquila and arriving at Guardiagrele, a city constructed almost entirely out of stone.  A visit to the Church of Santa Maria Maggiore is highly recommended to admire its white fifteenth century gateway and its baroque interior.  We also come here to walk down via Roma and to indulge in local sweets, the famous sise della monache. From Guardiagrele we head for the Adriatic coast, which we meet at Vasto.  Vasto is a coastal city but inland it offers exceptional peppery salami called ventricina del Vastese.  Let's accompany it with one last bottle of  Montepulciano d'Abruzzo.