Karen Bergeson
Still trying to adjust, Karen is back in the US after living for nearly 7 years in Italy. Though it could take a life time (and some would suggest one has to be born into it), she did her best to try  to understand the relationship Italians have with their food, wine, olive oil and, especially, how it relates to her terroir.  Put more simply, she ate and drank her way through most of the regions of Italy, from the Subappenino Dauno, Irpinia, and Trinacria in the south, to Franciacorta, Veneto, and Barolo in the north.  While the visits did involve artistic and cultural pursuits, enjoying typical food and wine remains where her heart is, and, not at all different from one another. Her focus was to promote food and wine tourism while writing for Vie del Gusto in her 'An American in Italy' column.
Vincenzo D'Antonio
Wine connoisseur and aficionado, Vincenzo culled his expertise while working in the food and beverage sector in Italy.  He is well-traveled throughout nearly every provincial capital and their little hamlets. He is welcomed as a guest or host of regional food and wine events where  he shares his vast repository of wine and food info.  He is an encyclopedia of all the acronyms – DOP, IGT,DOC, DOCG.
He wrote a book on DOP cheese and a vaguely  autobiographical novel called Gambine & Zuccheri.  He had 2 columns in Vie del Gusto – 'Dinner & Bed' and 'Drink Pink, Think Pink'. He now writes for ItaliaaTavola.net and EM/ME (now defunct) where he won a print journalist award from the region of Puglia (Salento Negroamaro) and salaecucina.it He has internal GPS in Italy and can easily sniff out the most charming places, wonderful wines and the most gorgeous views no matter the village, town or city.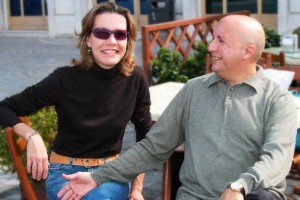 Together, in this guide, we hope to impart some of our passion and understanding of the Italian experience. We want to provide you with information to help to make your visit to Italy more rewarding and to peel away another layer of Italy, and all she has to offer.