Flavors from a land caressed by the sea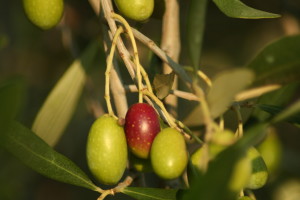 The arc-shaped region, better known for its sea and coast line and its mountains on the inland side. With the steep slopes and terraces along the mountains, grape growing is a rather limited and heroic (as most things are worked by hand) activity. It is unusual to find Ligurian wines outside the region.
We enter Liguria from the French border, at Ventimiglia.  San Remo, famous for its music festival and its flowers, follows shortly as we travel along the sea.  Let's eat:  Buiabesa, an amazing fish soup similiar to the French bouillabaisse.  Continuing on, we reach Imperia, a charming town on the mouth of the Impero River.  Then, as we head towards Savona we pass the plains of Oneglia to stop at Alassio and then Albenga.  Alassio is one of the most beautiful places on the Ligurian Riviera and it is famous for the Baci chocolates made from Piemont hazelnuts, egg whites, honey, sugar and cream.  An obligatory stop at Albenga is to try its purple asparagus.
The heart of the western Riviera, where the Alps meet the Appennines and embrace the sea is the beach town of Savona, the city of Chinotto.  Take a little jaunt inland to Millesimo, the capital of the Ligurian truffle and then head on to Genoa.
Genoa was one of the four marine cities in Italy for thousands of years.  From many points of view, it has more ties with Greece and Morocco than with Lombardia; more links to the ports of Sicily and Spain than to the mountains of Piemonte, enlivened as it is by the Turkish sounds and smells – Genoa is an umbilical cord to the world.  Here is the largest aquarium in Europe as well as the sumptuous Palazzo San Giorgio.  A stroll down Via Garibaldi should not be missed to view the Rolli Palaces. They were built by the Genoese nobility to host heads of state when they visited the republic of Genoa.
When you sit down to eat here, you must leave haste at the door.  Start with trenette al pesto. But with the pedigrees of basil from Pra, extra virgin olive oil from Imperia, 50 % Parmegiano Reggiano and 50 % Pecorino, Mediterranean pine nuts and a pinch of sea salt – made in a mortar and pestle.  Or, choose Mandilli de Saea with pesto  OR machetto, a kind of paste made from anchovies and sardines.  Mandilli de Saea means silk hanky because it is a pasta so thin you can almost see through it.
The journey continues and we reach Recco, famous for its cheese focaccia, once prepared only on Rememberance day.   We pass through Camogli, Portofino, Sestri Levante and arrive at the Gulf of Spezia on which lie enchanting little towns such as Lerici and Portovenere.  It is often called the Bay of Poets  thanks to Percy B. Shelley, Lord Byron, D.H. Lawrence, Virginia Wolf,  and Henry James.  Our table here will include a savory tart of anchovies and potatoes, followed by mescuia, a traditional chick pea, spelt soup accompanied by panigacci flat bread, originating from nearby Lunigiana.
Now we will immerse ourselves in a most beautiful place: The Cinque Terre.  Starting from Riomaggiore along the famous Via dell'Amore, through Corniglia, where the sea is a crystal blue green towards Vernazza and then onto Monterosso.  All five ports designated as World Heritage sites.
As we are close to Bocca di Magra, near the Tuscan border where the Ligurian sea becomes the Mediterranean we must take leave of Liguria.  Our boomerang would love us to stay and enjoy what it perennially has to offer.