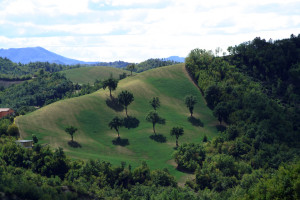 Our journey through Marche begins from the Piceno area near the coastal area of San Benedetto del Tronto, a beautiful town proudly flaunting its wonderful promenade shaded by palm trees. Leaving behind the sea of and moving up the hills we arrive in the town of Aquaviva Picena huddled around its medieval fortress which was once the stronghold of the Dukes of Aquaviva.
This is where the pagliarolle are still handmade.  We dine and we begin with fricantò a type of vegetable based ragù cooked for a very long time.  Another typical Aquaviva Picena dish is the ncip-nciap, rabbit, chopped, stewed and pan fried with oil, olives, garlic, rosemary and S & P.  From Aquaviva Picena, we move on to Ascoli Piceno, home to one of the most beautiful Italian squares; Piazza del Popolo, surrounded by the harmonious colonnade of different style arches.  If you happen to be around on the first Sunday of August, you should not miss the Quintana parade, a magnificent nightly parade that takes place in Piazza del Popollo.  Time to sit down at the table.  As a first course, maccheroncini di Campofilone cooked with a chicken giblet sauce.  Ascoli Piceno is the perfect place to enjoy the original Olive all'Ascolana, olives stuffed with a mixture of meats, eggs, cheese and nutmeg.  For dessert cicerhiata, balls coated with honey and caramelized sugar, prepared with dried fruits.  To take in a breathtaking view of this wonderful town, just take a stroll in the Parco della Rimembranza.
We now head for Fermo, renowned for it footwear and hat manufacturing. And from here we travel to Macerata with its Piazza Della Libertà which seems to be the local inhabitant's living room.  In Macerata we try 2 local cold meats:  The ciauscolo, a soft pâté salami, and the mazzafegato, a type of ciauscolo combined with pigs liver.
Now we move to Ancona and its port.  With the sea behind us, we are in Piazza della Republica.  A short walk uphill and we reach Pizza del Plebiscito, we pay homage to a symbol of the Marche cuisine: the vincisgrassi, very rich and tasty pasta accompanied by a delicious Verdicchio de Castelli di Jesi wine.  And now for the brodetto al anconatana, the traditional Ancona fish soup.  The brodetto all'anconetana has a very dense consistency and is served with lightly toasted bread.  After a pleasant walk we get to the Cathedral of San Ciriaco, on the Guasco hill.  Leaving Ancona we travel to Arcevia, where the romantic Leopardi Garden is an absolute must.  Returning towards the Adriatic Coast we reach Pesaro.  Pesaro is called the city of the four M s: Mare, Monti, Musiche and Maioliche.  (sea, mountains, music and ceramics) and it is also the native town of Giocchini Rossini.  Its seafront promenade is favored by the locals, and it is from this very promenade we leave Pesaro for Urbino, a prime example of a Renaissance city declared UNESCO world heritage site.
To communicate the overwhelming emotions felt on arriving in Urbino, we use the words of someone with a deep rooted love for this town: Carlo Bo, who was the rector of Urbino Universtiy, named after him, for 54 years.  He said " Anyone who arrives in Urbino unaware of its history and it importance is met with total astonishment, or rather, a miracle.  Set in the hilly landscape that support the city's access roads is a fairy-like mansion totally unscathed by the passing of time".  The mansion Carlo Bo refers to its Palazzao Ducale, a Renaissance masterpiece, with its Torricini and its Cortile D'Onore.  The Marche Nattional Gallery is located here.  The historic center of Urbino is entirely constructed in brick and is surrounded by defense walls.
Intense hunger is calling for a break.  We decide to pay tribute to the Urbino DOP Casciotta, made from a mixture of sheep and cow milk.  Our journey through the Marche has come to an end!