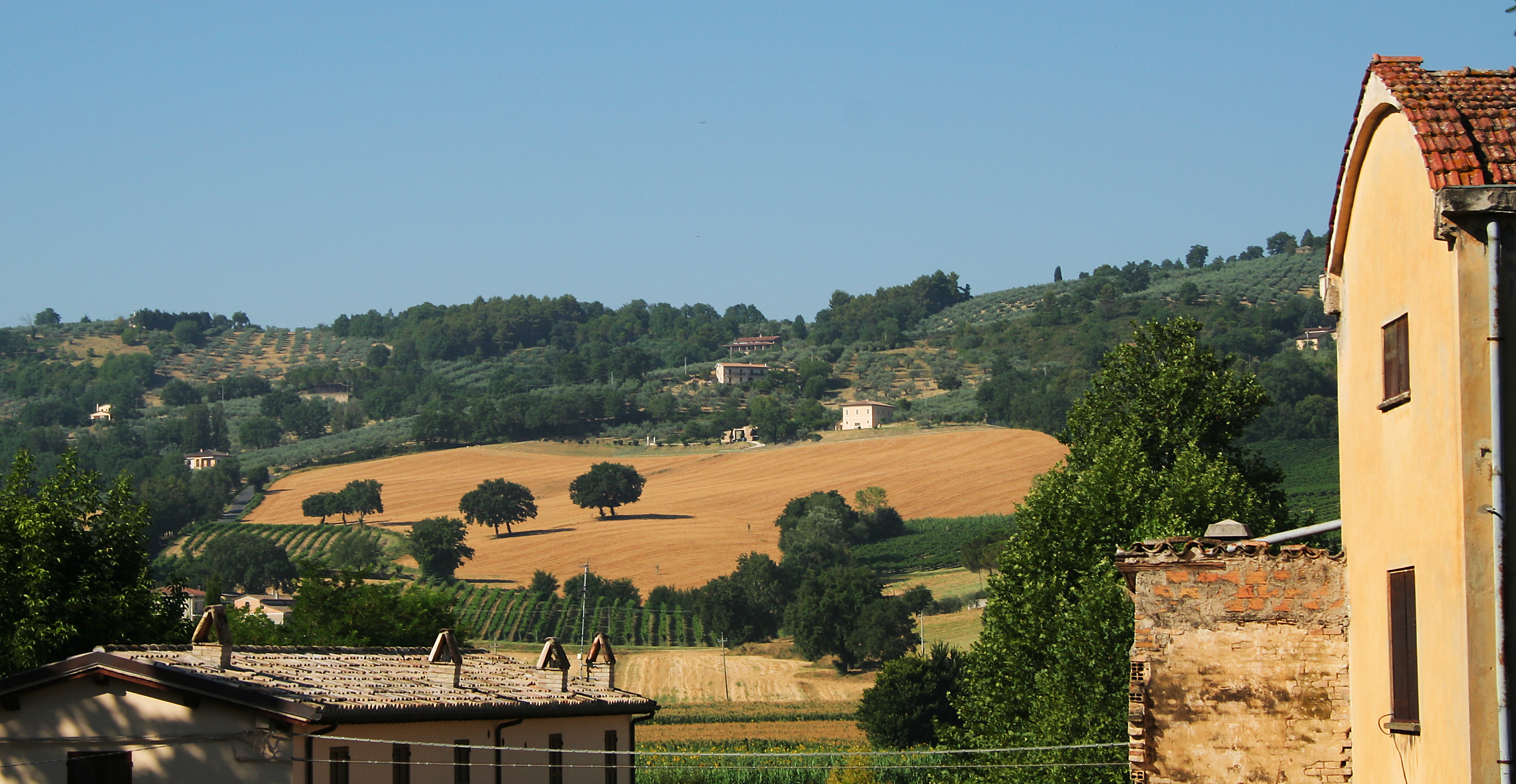 Umbria flourished in the Medieval and Renaissance time, a fact witnessed by its many masterpieces.  Olive groves and vineyards alternate almost imperceptibly, painting a palate of every conceivable color of green.  One discovers fine wines and great oils; Umbria produces an extra virgin olive oil of sheer excellence.  Among the wines, two excellent wines are the Torgiano Rossa Riserva DOCG and the Sagrantino DOCG from Montefalco.
Umbrian hills are topped by striking medieval hilltowns.  Landlocked, Umbria does not fell the sea, yet it is rich with water.  Among many examples are Lake Trasimeno, the Clitumno springs and the Marmore waterfall.  For our tour of Umbria we set off from its most eastern edge, Norcia from which springs San Benedetto.  Norcia is a treasure chest full of some of Italy's most precious gastronomic delights, like black truffles, the Norcian proscuitto ham IGP, and the Norcian Pecorino sheep milk cheese.
Crossing the Valnerina, we encounter Trevi, perched on a hilltop where we can try black celery, dipping it in the excellent olive oil.  Continuing on, we flank Foligno a town where, the people claim, is the actual center of Italy.  The tiny hill town Colfiorito emanates both peace and energy.  This is the land of the red potato.  From Foligno we pass through the delighful Spello, another village of saving grace.
Next we arrive in Cannara, with its red onion of Cannara, so delicate and tasty.  Here is the natural amphitheatre which offers one of the most beautiful panoramas of Umbria.  Light permitting, the view extends from Lake Trasimeno to Perugia, as far as Assisi, Spello, Foligno and Montefalco.  At Bettona you can really think that beauty will save the world.  Two typical treats not to be missed here are the porchetta roast pork and the zuccherini sweets.
From Bettona, flanking the shores of Lake Trasimeno, we arrive at Castiglione del Lago on the furthest shore.  A fortified town still surrounded by the original stone walls and entrance gate.  Here the cuisine is based on the lake itself. Do try the Tegamaccio di Trasimeno, a tasty fish broth, and Regina in Porchetta, carp stuffed with herbs.  Magical lands springing forth from the waters.
The three islands of the lake are Maggiore, Minore, and Polvese.  The latter is a natural oasis with verdant vegetation.  Do also visit Spoleto with its mighty Rocca di Albomoz and the cathedral, one of the most beautiful in Umbria.  Spoleto's cuisine combines the forest and the river in dishes such as strangozzi with trout and truffles.  In the beautiful Todi,  Jacopone left here lost of praise, but also his name to giant ravioli, cliced and served with meat sauce.
In Umbria we also find a World Heritage City of Peace, Assisi, with her mystical Saint Francis of Assisi, Italy's patron Saint.