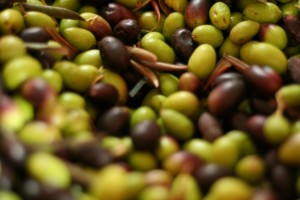 Washed by Two Seas
Historically, Basilicata (also known as Lucania) is a region where the production of olive oil and fruits have taken precedence over wine and grapes. The region consists of uplands; 47% mountains and 45% hills. These hills provide good growing conditions for quality grapes. There is abundant sunlight during the growing season and cooler temperatures during the harvest. The Greeks brought the vines to this region in pre-Roman times, so while not native, aglianico was made into wine long before the native varieties in the northern area of Italy. The wine cooperatives are now offering a high standard for not expensive wines.
Our voyage in Basilicata begins in Vultura, an imposing mountain mass of volcanic origin.  Magnificent chestnut woods dripping with chestnuts surround Melfi.  Poet Orazio was born in Venosa, a lovely city we should visit.  Vulture is olive country and the home of the superb wine Aglianico del Vulture DOC, ruby red in color, a balanced bouquet, dry favour and a warm harmonious blend.  Like the wine, Basilicata is a delightful mosaic of distinct, colorful elements full of nuances.  We notice this moving from Vulture to Alto Bradano.  In late spring it is easy to become ecstatic over the array of intense, lively colors, from green to golden wheat to poppy red.
A visit to Acerenza is a must, one of the most beautiful small villages in all of Italy.  It is dominated by the magnificent Romanesque cathedral — Cattedrale di Santa Maria Assunta e San Canio.  From Alto Bradano we go over to Val d'Agri, and area of fertile plains wedged in between mountain ranges and hills.  The mountain village of Sarconi, in Val'Agri is famous for its fagiolo IGP.  In the area is another charming centre, Moliterno, where we taste the Canestrato di Molterno, a hard aromatic sheep cheese.
In search of another dairy delicacy, we move over to Filiano, near Potenza.  The Pecorino di Filiano DOP, is a hard cheese made from sheep's milk.  There is only one way to serve Pecorino di Filiano, accompany it with Aglianico del Vulture DOC.
We make a visit to the regional capital Potenza, which is also the hightest capital in Italy.  From there we descend to the Tirrenia coast, where we reach Maratea.  The historic centre of Maratea is laid out out in a panoramic position on the Monte San Biagio fault, where the monument of the Redentore (Redeemer) is erected on the slope.
Returning inland we pass through Trecchina Lagonegro e Lauria.  Lagonegro has a medieval historic nucleus with its spiral-like pathways and roads.  Legend has it that Lisa del Giocondo, the Mona Lisa by Leonardo Da Vinci, is buried in the church of San Nicola.
Onto Matera, the city of Sassi (extraordinary urban ecosystem) declared a World Heritage Site by UNESCO.  The ancient nucleus of the city, the Sassi, is carved out of tufa stone in the Gravina di Matera and is made up of intricate alternating arches and running balconies, tiny streets and stairs, caves and large refined buildings where characteristic chimney pots and bell towers emerge. The craggy habitat of the Sassi is testimony of what it means for humans to work toward maintaining a delicate balance between man and nature.  A large and entire community knew how to live in harmony with nature for millennium.
Leisurely we sit down to the table.  Bread that has obtained the IGP quality designation holds a special place at the table.  The recipe for it is simple: finely ground Cappelli durum wheat semolina farina, natural yeast, just the right time to rise and the experience of Matera bakers. Our first course is lagane con lucanica e ricotta (spicy sausage lasagne with ricotta). Lagane is the Lucana version of tagliatelle Romagnole.  Our second course is cutturill, boiled lamb with potatoes and vegetables accompanied by cialledda (stale Matera bread soaked in warm water, dressed with onions, olives and oil).
After lunch let's head to Monte Pollino in the Parco del Pollino, a vast protected area in Europe.  It is a combination of valleys and mountains bursting with flora and fauna, flowing with water and holds 22 characteristic inhabited centers where man has left his mark ever since prehistoric times.  In one area of Pollino we come across Senise, famous for its IGP peppers.
Going west on the Ionian Sea, we arrive at Metaponto to see the Tavole Palatine, the temple dedicated to Hera.  The final leg takes us to Aliano, the tiny village where Carlo Levi lived as a political prisoner during the Fascist Dictatorship and where he is buried.